17th REVES meeting, Beijing (China), 2005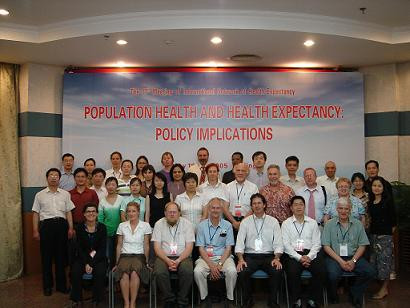 17th REVES meeting, Beijing (China), 2005
"Population Health and Health Expectancy - Policy Implications."
Organized by Professor Xiaochun Qiao, Center of Population and Development Studies, Renmin University of China.
The theme of the 17th meeting was the application of health expectancy to policy issues. Sessions were devoted to
the study of health concepts
methodological developments in population health evaluation
the relationship between morbidity and mortality
determinants and consequences of health problems
health comparisons among regions
comparisons between social groups.
The PowerPoint presentations are available by clicking on the author's name hereunder.
Session 1: Opening and International Comparison
Minicuci N, Noale M, Bélanger A, Leon EM, Leon MG, Mutafova M, Maleskov C. Disability and cognitive impairment free life expectancies: results from epidemiological surveys in Bulgaria, Canada, Italy and Latin America.
Verbrugge LM. Disability Views: Contrasting Singapore with the U.S.
Session 2: Global Health 1

Session 3: Disease and Disorder

Reynolds S. Underweight and Obesity and Active Life Expectancy.
Laditka JN, Laditka SB. Life Expectancy for Individuals with Alzheimer's disease or Related Disorders: Evidence of a Black/White Mortality Crossover.
Session 4: 5th George Myers Memorial Lecture

Ogawa N. Health and its impact on work and dependency among the elderly in Japan.
Session 5: Concept and Measurement Issues in Health

Van Oyen H, Demarest S, Miersman PJ, Deboosere P, Lorant V. Health expectancies in Belgium: results from the 2001 census.
Hjalsted B. Health terminology - an ontological representation of health concepts from the sub domains of preventive medicine, health promotion and public health in Denmark.
Ham-Chande R, González CA. A multidimensional approach to disease and functionality to estimate HLE.
Deeg D, Puts MTE. Frailty free life expectancy in the older population: the Netherlands.
Session 6: Gender Issues in Health

Li MF, Saito Y, Chuang Y. Educational Differences in Active Life Expectancy for the Elderly in Taiwan, 1989-1999.
Zhang W. The gender differences in personal care for older people in China.
Session 7: Inequality in Health

Session 8: Asian Issues

Session 9: Method Issues

Session 10: Determinants of Health

Hayward MD , Best LA, Hidajat MM. Early Life Influences on Diabetes among Older Americans.
Herrmann F, Frangos-Lordos E, Grandjean R, Robine JM, Michel JP.Long term survival of 3 cohorts (1976,1986,1996) after hospitalization to a geriatric hospital.
Jintian Y , Zhang Wei1 Z, Yintian Y. A Study of Teachers' Healthy Condition in China.
Session 11: Health of Chinese Elderly

Zhou Y, Zheng Z.Health Status of Teeth among the Oldest-old Chinese.
Cheng J . Economic Effects on the Onset of ADL Disability among Chinese Oldest-old.
Wu L . Active Life Expectancy of Chinese Elderly.
Session 12: Global Issue 2

Wilkins R , Finès P. Health expectancy of the Inuit-inhabited areas in Canada.
Jin C . Matching state's role to its capacity: Need for methodology for resource allocation.
Robine JM , Jagger C, Romieu I. Overview on REVES.