2009, Copenhagen, Denmark
21st REVES Meeting, Copenhagen, Denmark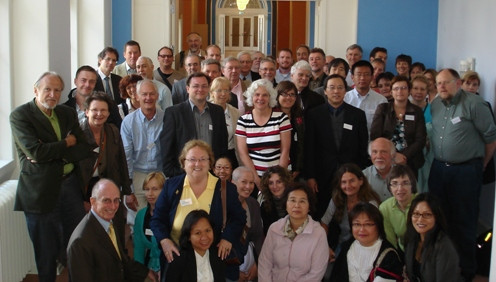 Reducing gaps in health expectancy
The conference was organized by Henrik Brønnum-Hansen, National Institute of Public Health University of Southern Denmark, and Bernard Jeune, Danish Aging Research Center, Institute of Public Health, University of Southern Denmark.
The overall theme of the conference "Reducing gaps in health expectancy" reflects that one main objective of REVES is to study and quantify differences in health expectancy between men and women as well as inequalities between socioeconomic groups and subpopulations of different ethnicity. The conference deals with these subjects together with studies focusing on international comparisons, trends, health among the oldest old and other topics. A special session on basic concepts and methods brushes up on what it's all about. The conference presents a general view and provides the opportunity for a discussion on measuring disability, classification systems, estimation methods, statistical considerations and available software. The training session was offered on the day before the conference with presentations and exercises using specific software tools.
The available slides of the presentations are accessible hereunder by clicking on the author's name.
Optional training session: Hands on session for computing health expectancy
Overview of multi-state life table methods (C Jagger , F Mattews)
Application of Bayesian Statistic for computing HE (1) (S Lynch, S Brown)
Application of Bayesian Statistic for computing HE (2) (S Lynch, S Brown)
Using SAS Macro for computing HE (1) (L Cai )
Using SAS Macro for computing HE (2) (L Cai)
Session 1: Harmonization and International comparisons
Session 2: Gender
WJ Nusselder . Decomposition of gender differences in Healthy Life Years.

H Van Oyen , B Cox, JM Robine and C Jagger for the EHEMU-team. Patterns in gender gaps in the EU.
L Frova , A Battisti and A Burgio. Are gaps in disability free life expectancies reducing in Italy?
RS Goyal. Whether the poverty of women in childhood and adult ages affect their health disability status in later years? [Cancelled]
Session 3: Methods - measures, models, simulations
Session 4: Projections, forecasts and scenarios
Session 5: Basic concepts and methods
George Myers lecture by James W Vaupel
Session 6: Oldest old and healthy aging
Session 7: Trends I
JW Bruggink . Health expectancies in the Netherlands since 1981.
CH Van Gool, HSJ Picavet, DJH Deeg, MMY de Klerk, WJ Nusselder, MPJ van Boxtel A Wong and N Hoeymans. Trends in late-life activity limitations: The Dutch population between 1990 and 2007.
SL Reynolds and EM Crimmins. Trends in the ability to work among the older US working population, 1997-2007.
Session 8: Social, ethnic and other differences
Session 9: Risk factors, chronic diseases and disability
L Bonneux , M Reuser and F Willekens. Disability trajectories and life style. A longer life in good health is closed by a longer period in more severe disability.
B Klijs . Contribution of chronic diseases to the burden of disability in the Netherlands.
N Brouard, M Espagnacq, JF Ravaud and the Tetrafigap group. Life expectancy of tetraplegic spinal cord injured individuals in France: a ten years follow-up.
C Himes . The effects of obesity on disability recovery.
Session 10: Trends II